GOOD DESIGN IN THE BEST FORMSILVER HOTEL
It is mostly a perfect design, original colors and the high quality of finishing materials, such as aluminum, stainless steel, glass and wood. What is more, the walls in our hotel are covered with original leather structures.
The bathrooms include spacious shower cabins JetteJoop, bathroom ceramics Villeroy&Boch, additions of Espirit and Bogner cosmetics. Surely they are things that make the Hotel Silver different from other hotels in Szczecin.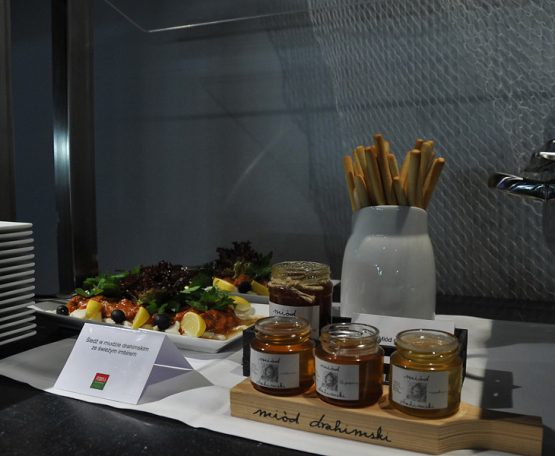 Our hotel is distinguished by a quiet neighborhoods and well-silenced rooms. Additionally, the smell of fresh bed sheets and unique curtain materials guaranteeing total darkness provide Guests with relax after a hard day. At the same time we can guarantee that the subtle halogen lighting will introduce a romantic, warm atmosphere after a long journey. What is more, delicious breakfasts and a morning coffee included in the room price are a standard in the Silver Hotel.
The hotel rooms are placed on two floors in the silenced part of the Hotel Silver. At the Guests' disposal we have 50 modern, air-conditioned rooms:
24 single rooms SGL,
12 double rooms DBL with separate beds,
14 double rooms with a double bed of the Queen type.
On the first floor of the Hotel Silver you can find a unique FERRINA Restaurantoffering Italian cuisine at its best. Apart from an exquisite kitchen, the restaurant can be proud of its modern interior made of high quality materials prepared specially for it.
The bar in the form of rings of the brushed steel structure and sporting accents of illuminated photos of Ferrari bolides refer to a sporty and exclusive character of the whole hotel. A spacious hall with a glass wall with a view to the Silver Gokart Center ensures unusual experiences while eating.
Our Guests can both watch racing on the kart track and participate in them.
After a tiring day at work or a long journey our Guests can use a recreational pool, sauna and a steam bath. The water massage and few moments spent in jacuzzi will surely give you strength. The wellness zone Blue Bay is also a receipt for a morning refreshment.
KOMPLEKSSILVER HOTEL & GOKART CENTER
Co inni mówią o nasREFERENCJE